About Metal Fire Rated Door
The application and use of Metal Fire Rated Door is of critical importance in buildings and areas needing to compartmentalize and contain the spread of fire. The use and application of fire rated doors is governed by National Building Codes as well as local fire and building authorities.
Metal Fire Rated Door meet all the relevant criteria having been tested as per IS 3614 – 1992 (Part 2) at The Building Fire Research Centre (BFRC), Mysuru for 120 minutes. Fire rated doors combine both strength and durability with highly attractive architectural appearance. The Fire rated doors are available in single and double shutters with a wide range of finishes and with the option of rectangular or circular vision panels.
These door sets can be made in very large sizes with options for glazing, fire resistant self closing louvers, single or double door sets, optional fixed over panels and optional temperature rise (insulation) configuration.
Main features
Galvanized painted
Fire rating – 30 to 120 minutes (Stability and integrity)
Clear fire glass – 120 minutes fire rating
Tested at The Building Fire Research Centre (BFRC), Mysuru.
Shutter thickness – 46 mm
Fully flush construction
Robust structure
Can be prepared to receive all types of hardware.
Suitable for panic hardware
Steel / Metal Fire Rated Doors                                               
Fire rate:120 minutes
Standard Size: 2050 x 860 x 150 mm
Metal Single Door
Metal Double Door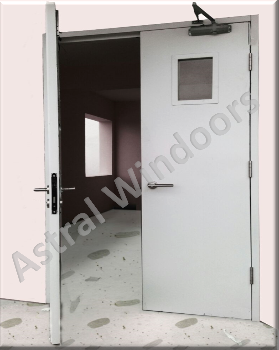 Metal Single Door With Vision Panel
Metal Premium Door